Hey!
Alpha 24.3 has now been deployed on the experimental branch as promised and it contains a loooot of changes. Please keep in mind that this is the first version of a major system overhaul, on the experimental branch, so bugs are expected. We will watch the stability over the weekend and deploy hot fixes if critical issues arise. Stability will also be worked on throughout next week.
We have a new contract system! How does it work? Well, this is almost like a mini devlog so let's get into it…
---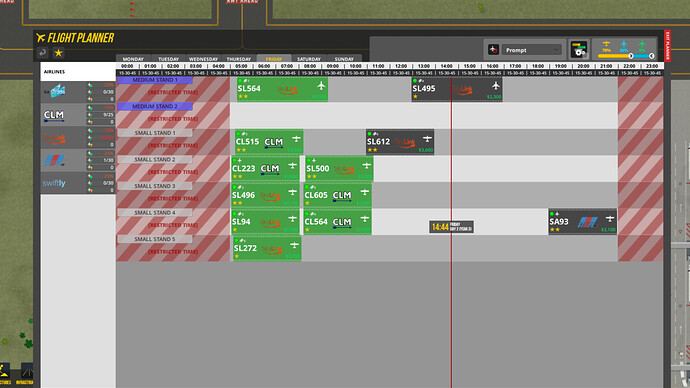 New Flight Contract System
We can finally present the first version of the new airline contract system! The system is intended to improve the scheduling process and shift focus from tedious signing of new contracts to instead manage relationship with airlines.
Due to many changes under the hood your old contracts will be removed and all, except your active flights will be cancelled. This is a technically motivated and required effort to avoid breaking any ongoing turnarounds and keep old save integrity. These flights will however lose all connections to its airline and route which means that you will be presented with question marks ("?") or missing data for these flights when viewed in the UI. Please ignore this as any new flights will have the correct data. Simply let the old flights run through and your save should be fine (unfortunately these old flights will give you $0 income, it is not a bug just an effect of these changes).
Contract Flow
You will now sign a master contract with an airline instead, which will (at least for now) not expire. The airline will then offer you flights (both single and reoccurring) depending on their current satisfaction of your airport. If you manage to get the flight away on time, the airline satisfaction will increase and vice versa if a flight is too delayed (you have a grace period of 1 hour, any more and your rating will be negatively impacted). More triggers for satisfaction will be added later on as the system be refined during its time on the experimental branch, based on your input.
Auto Scheduler
For the really laid back CEOs we have now implemented an auto scheduling system which will schedule any new flights completely automatic at the next available slot. Just make sure you have both a COO and a CIO at your board to enable the toggle in the flight planner.
The auto scheduling system depends on an artificial intelligence bot named Asio and is constructed with a neural network utilizing machine learning and deep web analytics to plan your flights as best as they can be planned. Naaaaaah, just kidding, it's just a set of if rules…
Aircraft Ratio Slider
You will now be able to set the ratio of new flights to better control the offered flights suited for your airport layout. You will be able to modify the ratio of small, medium and large aircraft sizes (not that large flights do not exist yet, but this is to prepare for future implementations). For example, if you set the slider to 60% small and 40% medium, airlines will offer you randomized flights with sizes corresponding to these ratios.
Individual Flight Ratings
Each flight now has a rating from one to five which is represented as stars similar to the contract system. Higher rated flights will earn you more money and for now you can get up to 3-star flights should all requirements be met. The airline will look at your facilities and offer flights rated at that level. If you click on the large star in the flight planner you can find out what you need to construct or offer to get higher rated flights. This feature is still experimental and we plan to add more requirements later when we have gathered some initial feedback from you all.
---
That's it for the airline contract system, however we have two more important things to mention…
Massive Memory Leak Patched
Several of you have noticed that over time, when running an empty airport or an airport with a consistent passenger flow, the game has over time become sluggish and unplayable. We believe to now have found, and patched, that issue which was related to an ancient code segment located in the security checkpoint class controlling the lights and effects (not kidding… in big projects like this code quickly becomes legacy). This issue is not immediately related to the number of passengers in your airport, for example running an airport with a few thousand passengers will still strain your CPU and is something we're working on in another ticket, but at least the game should now stop killing your computer over time for no reason.
Edit: Speaking of performance, there's now also a passenger ratio per flight slider accessible via the game panel (in game menu). Want to run more flights with less passengers? Use the slider to get the desired effect.
The Famous South Sudan Bug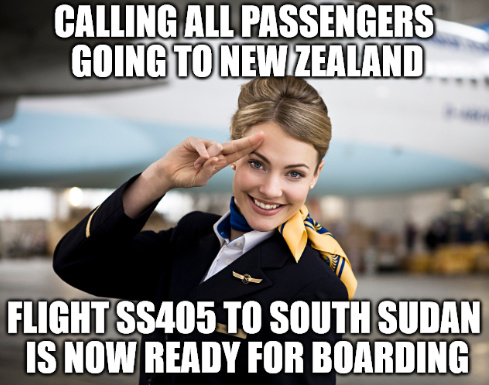 This one bugged us for quite some time and was reported in excess. We found an issue where the airport location latitude and longitude was mistakenly reversed in a distance calculation method. We are not sure exactly why this bug created strange routes that all seemed to depart to or from South Sudan, but now it is considered fixed. It took quite a while to iron this out, partly because it was not top prioritized and in the end was a simple bug that was very well hidden in the code. During the bug's life it almost became a classic that we can now all, hopefully, laugh about. After all, it was quite funny imagining the faces of the passengers when they realized they ended up in South Sudan instead of their intended destination. The issue might remain for saved flights but should not occur for newly ones, if so please report it and include a save as well as screens.
---
Here's the complete patch notes for 24.3. See you all tomorrow!
    Release notes - Airport CEO - Version Alpha 24.3

Improvement
Bug
New Feature
[ACEO-3120] - Implement auto scheduler for flights